Trek
Introduction of Trekking
The variety of trek in Bhutan ranges from simple three day to twenty five day legendary snowman's trek that takes the trekkers through the most wonderful places in the Himalayan kingdom. Bhutan treks offers a combination of natural beauty and the opportunity to witness the simple life of local Bhutanese people.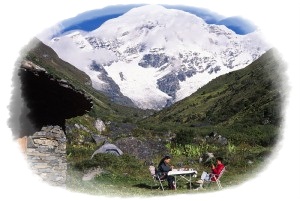 Bhutan treks are very famous for the majestic views and breathe taking mountains that are perennially capped with snows.Trekking are combine with culture tour to give the traveler the opportunity to experience and learn about Bhutan's culture, tradition and environment and at the same time witness the beauty that the nature has to offer.
There are many treks in Bhutan,but here we had listed the most famous trek of bhutan.
Jumolhari Trek
Day 01: Arrive Paro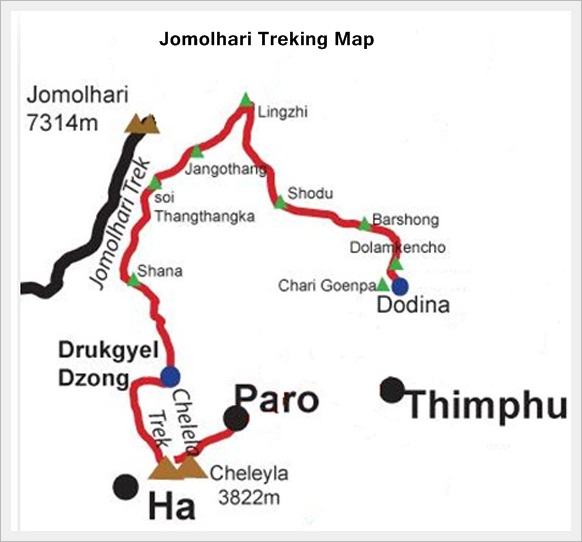 Day 02: Taktsang Excursion
Day 03: Drukgyel Dzong to Shana (04-05 hours)
Day 04: Shana to Thangthangka (07-08 hours)
Day 05: Thangthangka to Base Camp (04-05 hours)
Day 06: Halt at Base Camp
Day 07: Base Camp to Lingshi (06-07 hours)
Day 08: Lingshi to Shodu (08-09 hours)
Day 09: Shodu to Barshong (05-06 hours)
Day 10: Barshong to Dodena (07-08 hours)
Day 11: Thimphu to Paro
Royal Trek
Day 01: Arrive Paro
Day 02: Hike to Taktsang Monastery
Day 03: Paro to€" Thimphu
Day 05: Punakha to€" Tongsa
Day 06: Tongsa to€" Kuenga Rapten
Day 07: Royal Trek Begins: Kuenga Rapten to€" Zangrongpang (04-05 hours)
Day 08: Zangrongpang to€" Tongle La (06-07 hours)
Day 09: Tongle La to€" Jakar
Day 10: Jakar
Day 11: Jakar to€" Gangtey
Day 12: Gangtey to€" Paro
Day 13: Departure
Also known as €˜The Royal Heritage Trail€™
VIEW DETAILED ITINERARY HERE
Gangtey Trek
Day €" 1 Arrive Paro International Airport
Day €" 2 Paro to€" Sightseeing
Day €" 3 Thimphu to€" Sightseeing
Day  4 Thimphu to€" Gangtey
Day €" 5 Gangtey to€" Gogona
Day €" 6 Gogona to€" Khotokha
Day €" 7 Khotokha to€" Chuzomsa
Day €" 8 Chuzomsa to€" Paro
Day €" 9 Paro to€" Visit Tiger'€™s Nest
Day€" 10 Paro to€" International Airport
VIEW DETAILED ITINERARY HERE