Adventure Tour
River Rafting Tour
Day 1: Arrive in Paro; drive to Thimphu.
Day 2: Drive over the Dochu La Pass (12,000 ft ) and paddle the Mo Chhu river (Class IV). Hike from Punkha Dzong to our camp on the Pho River.
Day 3 & 4: Hike upstream, then raft down the Pho Chhu (class III/IV) to camp
Day 5: Rafting in the morning; visit the Wangdi Phodrang Dzong; drive to Thimphu
Day 6: Day in Thimphu at the Market or Paddle the Puna Tsang Chhu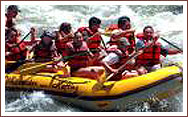 Day 7: Drive from Thimpu to Ha; begin hike into Haa Valley.
Day 8: Hike over the Tegola Pass (12,000 ft)
Day 9 & 10: Hike over the Puli La Pass (10,500 ft) to the Amo Chhu put in.
Day 11 & 12: Raft/kayak on Amo Chhu; camp on river beaches.
Day 13: Arrive in Phuentsholling and check into hotel.
Day 14: Drive to Bagdora and fly to any major cities in India to connect international flights.
The detailed Itinerary hear
Mountain Biking, Rafting, Day walks
Day 1: Arrival. Paro to Ha (60Kms, 2 hrs)
Day 2: Ha to€" Thimphu (Biking, Car)
Day 3: Thimphu Halt
Day 4: Thimphu to Punakha (67 Kms/3hrs)
Day 5: Punakha Halt (Rafting)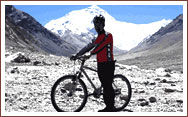 Day 6: Punakha to€" Bumthang (197 Kms/7hrs)
Day 7: Bumthang Halt
Day 8: Bumthang to€" Gangtey (102 kms/4hrs)
Day 10: Gangtey to€" Paro (160 kms/5 1/2 hrs)
Day 11: Paro Halt
Day 12: Departure
The detailed Itinerary hear
East to West Cycling Tour
Day 01: Fly to Paro in Bhutan
Day 02: Day Hike to Taktsang
Day 03: To Haa Valley across the Chele La
Day 04: Bike to Thimphu
Day 05: Across the Dochu La to Punakha
Day 06: Bike to Gangtey
Day 07: Cross the Pele La to Tongsa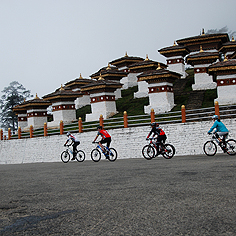 Day 8: Bike to Jakar
Day 9: Across the Shertangla
Day 10: Cross the Thrumsing La to Mongar
Day 11: Bike to Tashigang
Day 12: Southwards towards India
Day 13: Ridge riding and down to Samdrup Jongkhar
Day 14: Drive to Gauhati Airport
The detailed Itinerary hear