Travel Information
Best Seasons and Temperature
The southern part of Bhutan is tropical, and in general, the east of Bhutan is warmer than the west of the country. The central valley of Punakha, Wangdiphodrang, Mongar, Trashigang and Lhuntse enjoy a semi tropical climate with very cool winters, while Thimphu, Trongsa and Bumthang have a much harsher climate, with heavy monsoon rains in the summer and heavy snow fall in winter. Winter in Bhutan starts from mid-November till mid-March, and at this time of the year the climate is dry with day time temperature of 16-18° C and night time temperature falling below zero. The monsoon usually arrives in mid-June, with the rain falling mainly in the afternoons and evenings. Autumn starts from the end of September, after the last of the big rains, and it is a magnificent season for trekking-lasting till mid-November.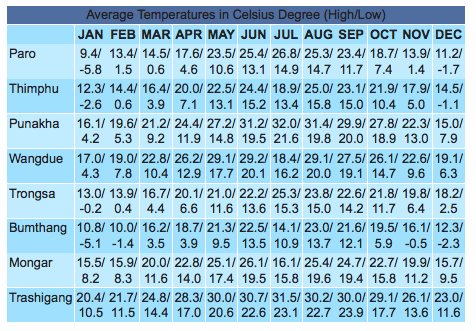 ACCOMMODATION
There are comfortable Hotel and Resorts at all tourist destinations. Western Bhutan has better hotels, Resorts and Luxury hotels while in central and eastern part of the country, accommodation establishments are simple and offer minimum facilities. We use the best accommodations, certified by the Tourism Council of Bhutan as "A" grade Hotels and Resorts.
CURRENCY
Ngultrum:It has the same value as Indian Rupee, which is also a legal tender. One US $ is roughly equal to 45 Ngulturms. The most of the shops in Bhutan does not accept credits cards except in few handicrafts emporiums. You can cash Traveler's cheques at any banks, most hotels and the foreign exchange counter at the airport.
PHOTOGRAPHY & FILMING REGULATIONS
The photographic opportunities on all trips are immense. You will also wish to record the local people, their houses and shops etc. You can always ask by gesture, if it's ok to take pictures. Also while visiting Dzongs, monasteries, and religious institutions, please follow your guide's instruction carefully. Photography inside the Dzongs and monuments are not allowed. Although films and batteries are available locally, it is best to bring it yourself.
FILMING IN BHUTAN
The rules and rates for filming in Bhutan differ from that of normal treks and tours. Tourists or professionals intent on filming in Bhutan must abide by the Bhutanese Filing Regulations, 1995, available with the implementing agency, the Department of Tourism. (The regulation does not apply to feature or cinematographic films). Applications for a filming permit must be submitted to the Department of Tourism at least 30 days in advance. The application must be accompanied by:
a. Synopsis of the film ~ theme/background/objective/purpose/
b. Specific locations/objects/activities
c. Composition of the team and list of equipment, accessories/ consumables (members of the team will have to pay the full daily tourist tariff) Letter of recommendation from sponsoring agency (application forms can be obtained from the DOT on payment of Nu/300.00)
FILMING ROYALTY
1. First 30 Minutes or part thereof ~ US $10,000
2. Next 30 Minutes or part thereof ~ US $6,000
3. Every additional 30 Minutes or part there of US $3,000 In addition a security deposit of US $5,000 must be deposited with the DOT. This deposit will be refunded upon completion of the film to the satisfaction of the DOT.
MEDICAL & HEALTH
Anyone who enjoys out door life and is physically fit can participate on our treks and tours. How ever some treks maybe rigorous and difficult because of high altitude and therefore a good training of fitness for at least a month at home is required for treks going to an altitude in excess of 4000 mts/1500 ft. there are no compulsory vaccinations for travel to Bhutan or within the continent. However it is recommended that you be protected against Polio, Tetanus, Typhoid, Cholera, Hepatitis A, Malaria, especially if you are traveling out of Bhutan. If you have heart condition, please check with the doctor to ensure that it is ok to undertake high altitude treks.
CLOTHING
The wide range of temperature does not make dressing easy. From May to Sep. cotton clothes are sufficient, plus a woolen sweater or light jacket. From November to the end of April, on the other hand, you will need very warm clothes including long underwear or woolen tights to wear under trousers, and down jacket or coat.
CUSTOMS
Export of antiques, plants or animal products are strictly prohibited. Cameras, video cameras, computers and personal electronic equipment must be declared on arrival and will be checked upon departure.
SAFETY
The crime rate in Bhutan is very low; the country lives up to its epithet of the Land of Peaceful Dragon. Even so there are Police Stations in almost all districts.
LIABILITY
Arrival to kingdom tours and travel€ acts as intermediary between the concerned operators provide the services. Travel to kingdom Tours is therefore not responsibility for any loss, injury or damage sustained by the tourists, including those occurring outside the touring programmes. Additional expenses, natural disaster. Political actions and unrest must be borne by the tourists. No refund will be available in the event of any route or itinerary changes.
PASSPORT
A valid passport is required for all nationals except Indians.
CUSTOMS AND REGULATION
The Bhutanese authorities strictly prohibit the export of any religious Antiquity or antiques of any type. All personal electronics, Cameras, Video Cameras, Computers and personal electronic equipment may be brought into the country but they must be listed on the customs form provided on arrival at Paro and will be checked on departure. Two liters of Alcohol and reasonable quantity of cigarettes may be brought in to the country without duty.
WHAT TO WEAR
Due to wide range of temperature and climatic conditions, it is advisable to bring appropriate clothing. From May to September normal traveling cloths plus a light woolen sweater or a light jacket and a light walking boots are sufficient. From November to end of April, you will need very warm cloths including underwear or woolen tights to wear under trousers, thick socks, strong boots and down jacket.
You will be offending people if you walk around in skimpy or tight fitting clothes. Although there are normally opportunities to wear skirts or loose trousers, men should not wear singlets. During visit of monasteries, Dzongs and other religious sites, you should not wear shorts and hats.
The following is a fairly exhaustive list of what you should pack for the trip:
Clothes as per season, sunglasses/spare glasses or contact lenses, pair of casual shoes, washing kit, shaving kit, towel, hat umbrella, camera, film and accessories, maps, insect repellent, hand cream, small sewing kit & safety pins, torch or flash light with spare batteries, mirror, sun screen cream, lip salve or soluble aspirin, antiseptic cream, preparation for the relief of sunburn. You may not be tuned to the Asian drugs so it is always better to bring own brand.
FOOD AND DRINKS
Bhutanese food is a tantalizing blend of hot Himalayan flavors. Northern Indian cuisine mixes with the chillies of the Tibetan plateau and traditional recipes from Bhutan's villages to create sizzling and memorable tastes. Chanterelle mushrooms, apricots, asparagus, a wide variety of chillis and a host of spices grow in abundance in Bhutan's valleys. These spices, fruits and vegetables are prepared with beef, chicken, pork, and dried yak or with each other to make dishes that resemble elements of both Chinese and Indian cuisine. Bhutanese dishes are traditionally served with ample portions of indigenous red rice. The food prepared for tourists is tempered to western taste. The tourism authority imported the knowledge of selected European hotel experts to improve the quality of food and beverage.
THINGS TO BUY
Thangkas : Thangkas are Buddhist paintings, usually on canvas. Traditionally, they are mounted on a background of brocade and hung by a stick sewn across the top. You can also buy an un-mounted painting.
Textiles : Hand-woven cotton fabric is the most traditional and useful item you can buy in Bhutan. The quality is almost always good, but the price will vary depending on the intricacy of the design and whether any expensive imported silk is used in the weaving
Handmade paper: is available in large sheets and is packaged into handy packets of letter-writing size.
Carpet manufacturing: is recent innovation in Bhutan.
Handicrafts: Bhutan boasts a variety of high quality handicrafts.
Other Items : Brass statues and Buddhist ritual items, such as bells, cymbals, trumpets and dorjees are available form specialist shops. Jewellery and other silver items are best purchased from a reputable shop or from the artisans themselves. Excellent wood pieces can be bought. Useful items such as picture frames and furniture is available, as are wooden masks similar to those used in the tshechu dances. Wooden bowls, either plain or lined with silver, are a speciality of eastern Bhutan.
Bamboo work is available in most of the handicraft shops and sometimes at roadside stalls. The round bangchung baskets are a typical Bhutanese item. Another unusual item are the large bamboo pipes covered with weaving that is used for carrying local liquor.
POST & COMMUNICATION
The Bhutanese postal system is reliable, you can send mails from hotels and post offices and no special procedures are necessary. If you mail cards or letters from the Thimphu post office, you can buy exotic Bhutan postage stamps from the philatelic bureau and use them on your letters and postcards. Bhutan Post offers outgoing EMS [expedited mail service], which is a reliable and fast international mail delivery facility that is cheaper than courier services. It also has a LUM [local urgent mail] service for delivery within Bhutan. DHL is the only international courier to operate from Bhutan.
Most of the country's major towns have both domestic and international direct dial facilities. Nearly all hotels and some PCOs have facilities to send and receive faxes. Bhutan has its own Internet and email services in 1999.
DISTANCE & DRIVING
All mode of transport within Bhutan is by motor vehicle as there is no domestic airline or trains. However, motor roads are well maintained and link all parts of the country. The mountainous terrain and winding roads restrict the average driving speed of vehicle to less than 35 – 40 kilometers per hour.